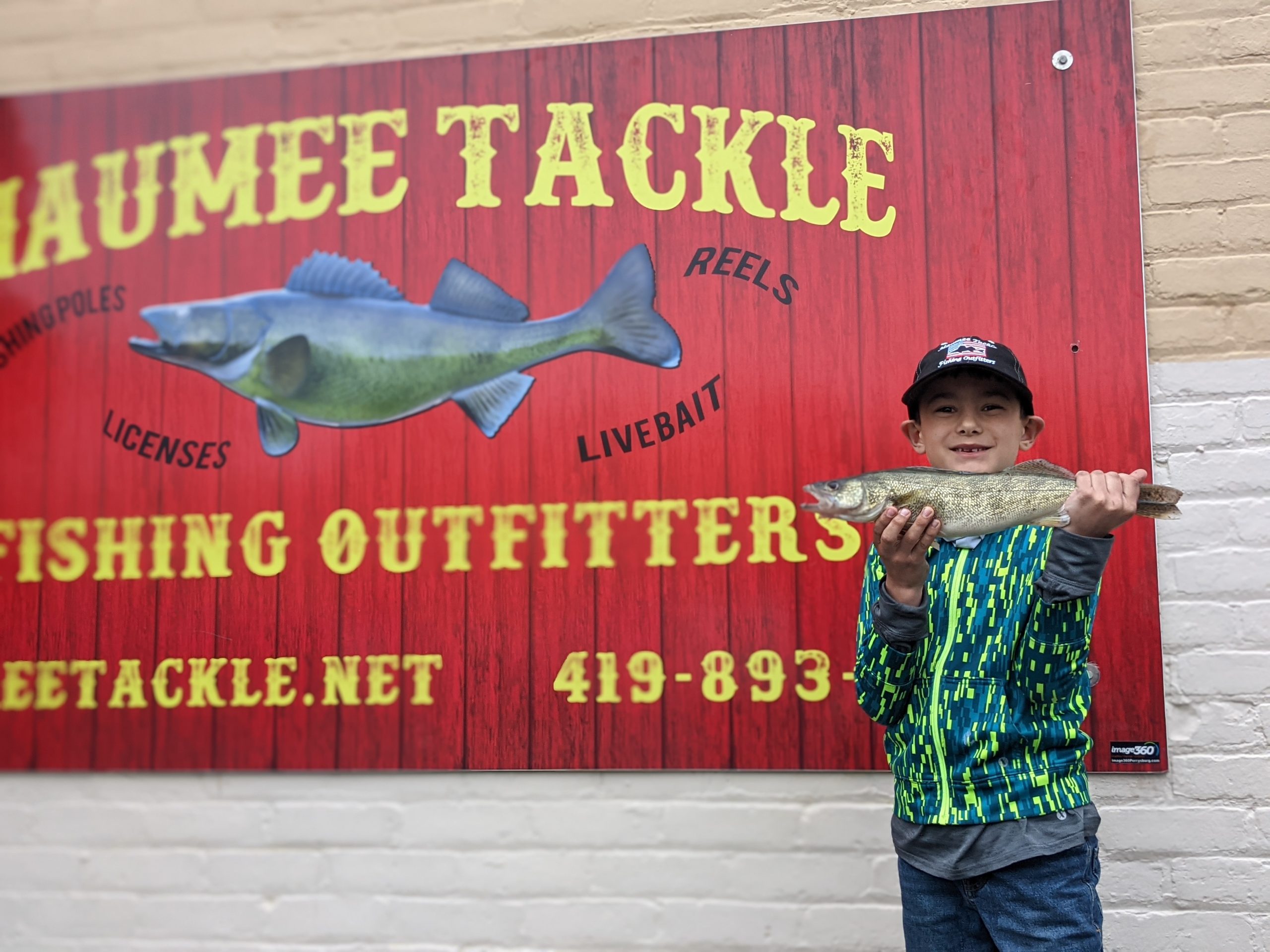 Barometric Pressure
29.67
Fresh batch emerald shiners in stock
*click images to enlarge*
Sunrise/First cast- 7:08 am
Sunset/Last Cast-8:6 pm
Wading to Bluegrass Island is permitted. 
Weight:Â  Â 1/2 – 5/8 oz
All access areas including Bluegrass are accessible today.
Water is getting warm..time for that rain dance , we need it.
tuesday was a slow bite. It was sunny and 80 degrees, a beautiful day on the water. There was no particular hotspot throughout  the day, everyone was crowded into bluegrass , buttonwoood and jerome rd rapids so that where the most fish were caught. Mostly jacks right around that 16-18 inch size. . The evening bite picked up and we started to see a few of the big females full of eggs being caught. Today is going to be nice and warm out there again- bright head and tails have been most productive.
Daily we get asked the question" whats the best rod and reel combo available for the Maumee river and the walleye run" . Of course there are many factors that need to be taken in to account -durability, sensitivity, fit and feel, and affordability.
There are hundreds of variations of rod/reel combinations that will do the trick, but I'm just going to highlight  several combos that will meet the criteria required to fish with confidence in the Maumee. Lets keep in mind that the spawning  grounds of the Maumee is brushy and rocky. That's why the Walleye and White Bass love this section of the river, there are millions of places for their eggs to stick and germinate into hatchlings.  This brushy /rocky river is also hard on rods and reels, you're going to get snagged quite a bit.
Onwe of the best combos you can put togeteher for the run  St croix Eyecon and the Pfluger President reel
St.Croix Eyecon walleye rods. Built on a very responsive SCII graphite blanks with technique-specific actions for just about any walleye fishing scenario.  Recommended lengths 6'6″-7′.
Pfleuger President Reel-
10 Bearing System – Corrosion resistant stainless steel ball bearings
Graphite Body and Rotor – Lightweight graphite reel
Braid Ready Spool
Sealed Drag System
Slow Oscillation Gearing
Aluminum Handle – Aircraft grade aluminum
Choices .Choices…what makes you fish with confidence? I have noticed the whatever lure color the first fish or first big fish that an angler ever caught in his life is his or her  lifetime go to color, weather he knows it or not.  Me – first bag of colored plastic worms I found in an old discarded tackle box was plain purple- caught all sorts of fish on them that summer. Purple is it for me.
But it doesnt hurt to have some back ups.
Have fun , be safe and good luck fishing
Suggested Baits