MAUMEE RIVER
LEVEL-586.2 and dropping
TEMP- 46 Â degrees
Barometer:30.04 and rising
Wading to Bluegrass Island is NOT possible
Clarity-3 inches
Sunrise : 7:06 AM (First cast)
Sunset: 8:07 PM (Last cast)
Tough day of fishing yesterday we did see some fish caught , but you had to use a 1 1/2 oz weight to get to bottome and reach the sfish. Today should be much better with the water levels dropping throughout the day and into the rest of the week.
Today white street access, the Towpath , Orleans park and FtMiegs will be the best places to fish.
Outlook: We have entered into what is traditionally the peak of the walleye run . Ohio Department of Natural Resources fish surveys have seen large numbers of walleye in the spawning areas. High water will make the river difficult for anglers over the next few days.
The walleye run traditionally peaks during the first half of April so lots of fish in the river right now. Fishing should be good as the river drops to more normal levels. Fishing Pressure is and has been very low .

Weight:3/4 to 1 oz
Leader:36-48 inches
Colors: green head/ Berkly Xmas Lights Tail – Yellow head / Berkly firetiger tail – Red head /Pink sparkle tail – orange head/ black tail
Weather Report
TodaySunny, with a high near 61. Light west wind becoming southwest 5 to 10 mph in the morning.
TonightMostly clear, with a low around 47. South wind 7 to 9 mph.
SundayPartly sunny, with a high near 72. Southwest wind 10 to 17 mph.
Have Fun Be safe and Good LucK Fishing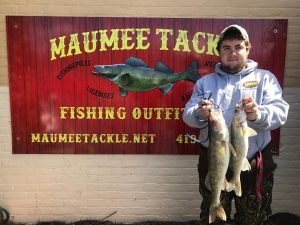 Suggested Baits