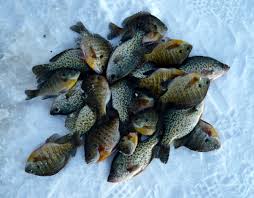 Barometric Pressure
30.01 rising
So the last few days have been very cold, and this week it going to get colder. This is what ice fishermen have been waiting for.  I have been getting reports of at least 3-4 inches on just about all the local ponds and reservoirs-some have more and the cold is going to even more on each night. Keep in mind that, spring fed lakes, wind and depth all have bearing on how much ice is formed on a pond-each one is different so exercise caution.
Reports from the lake erie area have been pretty mixed and sketchy , but after this deep freeze  the weekend may be better. At least east harbor should be plenty thick.
I have been resupplied on wax worms  and spikes. I also stocked up on minnows.
We still have plenty of hand augers, ice rods and tip-ups, jigs and lake erie  ice fishing supplies as well.
Have fun be safe and good luck fishing
Suggested Baits