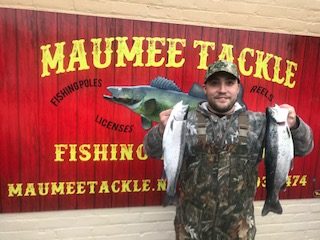 Water Temperature
42 degrees
Although a few angers went out yesterday we didn't have any reports of any walleye caught out of the river. There were a few others that went out to some of the local ponds and reservoirs and had some luck taking a few crappie and trout .  As far as the river is concerned the water level has barely changed but it is slowly dropping. With the ground being so saturated from the ice/snow melt and the rain its going to take a few days .  Today is windy here in northwest Ohio but it looks like that big line of rain and storms going across the country is going miss us and Ft. Wayne, so the rest of the week should be dry.
A reminder that the Maumee river is formed at the confluence of the St Joshpeh and St Mary  rivers, at Ft Wayne, IN and meanders northeast ward for 137 miles  through an mostly agricultural region ,before flowing into the Maumee Bay of Lake Erie. So when The Ft Wayne area gets signficant weather in one form or another the river levels and temps are affected here in Maumee/Toledo area.
Starting that first week of March we will be doing our weekly BIG JACK contest.  
PRIZE IS $25 GIFT CERTIFICATE FOR THE WEEKÂ  AND MONTHLY BIG JACK GETS 50$ gift certificate.
  Jacks ( males)only , caught in Maumee river, free of snag marks, heaviest wins.
Even if you dont have a big jack bring your stringer full up to the shop and we will weigh , measure and take your photo.  Even if its after hours we have a scale hanging on a post out front always available for use.
Have fun, be safe and good luck fishing.
Suggested Baits