Maumee River Report:
LEVEL-581.0
TEMP- 39 degrees
Barometer: 29.71 inHg and falling
Wading to Bluegrass Island is possible
Clarity-6 inches
What a beautiful day it is shaping up to be. The water warmed up 2 degrees with yesterdays sunshine as we inch toward the 40 degree mark. it is still a bit early for the main walleye run to start . as the days get longer and the water warms we may see some of those rsident walleye begin to move around and maybe a few early runners. Regardless its going to be a nice weekend to shake off that winter cabin fever and get out there and scope out your favorite fishing hole  while testing that new gear you got for Christmas.
Today
Mostly sunny, with a high near 62. Southwest wind around 14 mph.
Tonight
Partly cloudy, with a low around 40. West wind 5 to 8 mph becoming calm after midnight.
Sunday
Sunny, with a high near 58. Calm wind becoming west around 5 mph.
Sunday Night
Partly cloudy, with a low around 35. Calm wind becoming east around 5 mph after midnight.
Washington's Birthday
Mostly sunny, with a high near 54. East wind 5 to 9 mph.
WE ARE FULLY STOCKED WITH ROD, REELS , AND WADERS FOR THE RIVER –SOMETHING TO FIT EVERY BUDGET
Have fun be safe and good luck fishing.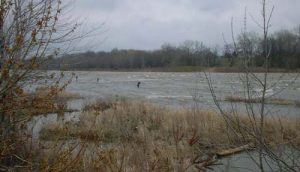 Suggested Baits