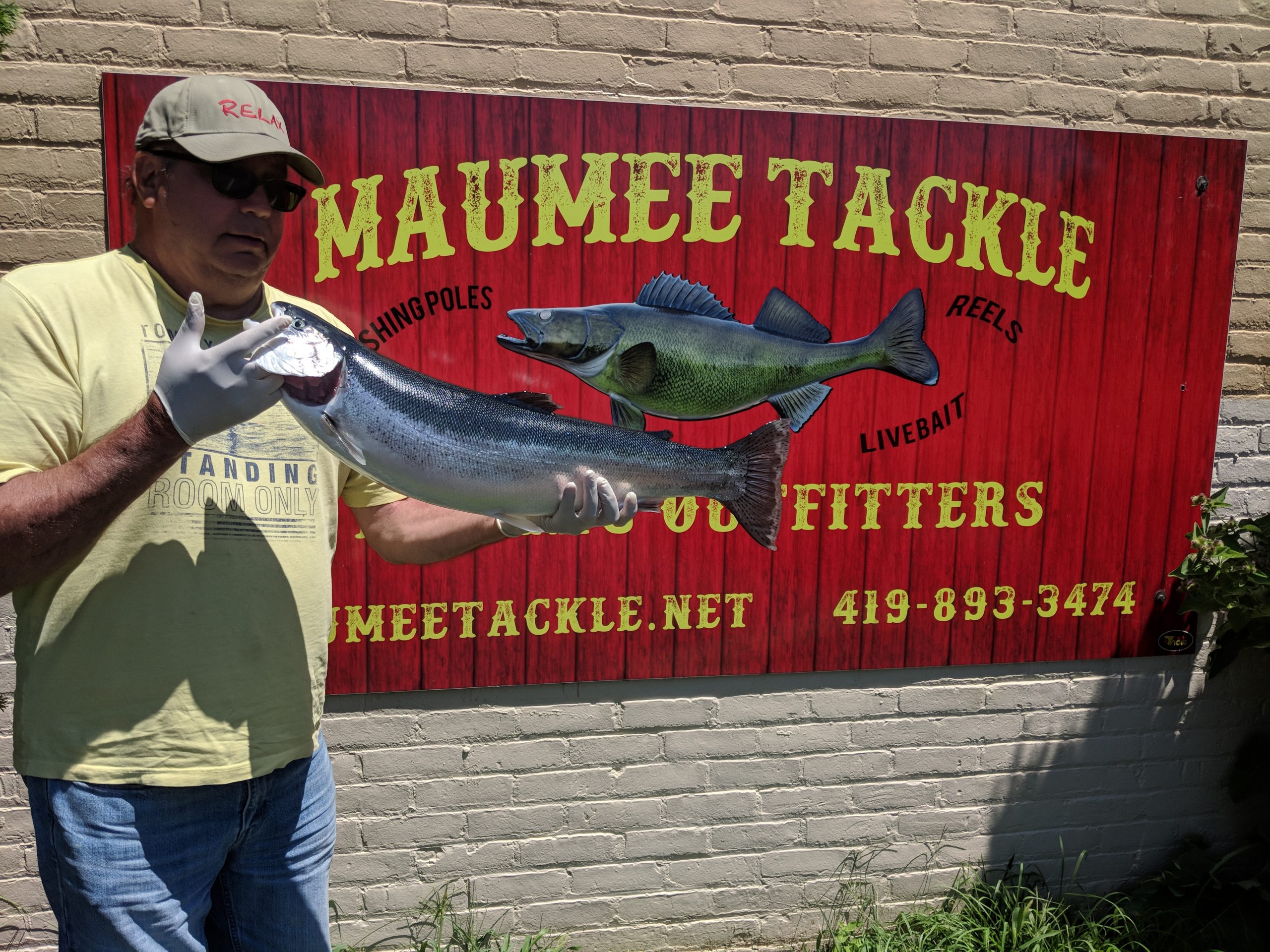 Water Temperature
79 degrees
Barometric Pressure
29.22
Robert pulled this beautiful 9.7 lb steel head out of Michigan waters  but stopped in to show it off ,all on gear supplied here at Maumee tackle.
Steel head do run here in the maumee , while its rare to see a big one like this we do see a decent number caught in spring and fall.
Typical set-ups are long (7-10′), limber, spinning or fly rods with light line (4-8 lb. test). Common lures in the fall, early winter, and again in the spring include small (1/16 to 1/80 oz.) marabou or synthetic hair jigs tipped with maggots rigged with split shot under a light pencil-thin bobber.
Spoons (Little Cleo, KO Wobblers) and spinners (Rooster Tails, Vibrax, etc.) are commonly used on piers, beaches and lower stream reaches.
Flyfishers (using 6-9 wt. rods and weight-forward lines) prefer larger, weighted fly patterns, such as nymphs and streamers like woolly buggers, princes, egg-sucking leeches, stonefly and shiner patterns and clouser minnows.
Egg fly patterns (single or cluster, sucker spawn, etc.) work well as a single fly or in tandem with a nymph or streamer once the fish move upstream. Salmon or trout eggs are fished as either individual eggs or grouped together in mesh "spawn bags" about the size of a dime or nickel. Eggs can be bounced along the bottom with the current or fished at or near the bottom suspended under a bobber.
The fish will be oriented to cover or moderate to deep water pools in the fall, and move into cuts or gravel runs as they make their way upstream for spawning. As stream temperatures warm during the spring, expect fish to be more likely to chase flies, lures or bait and to be found in riffles and runs. Then in mid April – mid May, they move back downstream and into Lake Erie for the summer.
Today you will have good luck floating a fat , juicy night crawler down stream  or tossing out a crawfish patterned lure to attract some catfish and smallmouth bass.
Have fun be safe and good luck fishing.
Suggested Baits