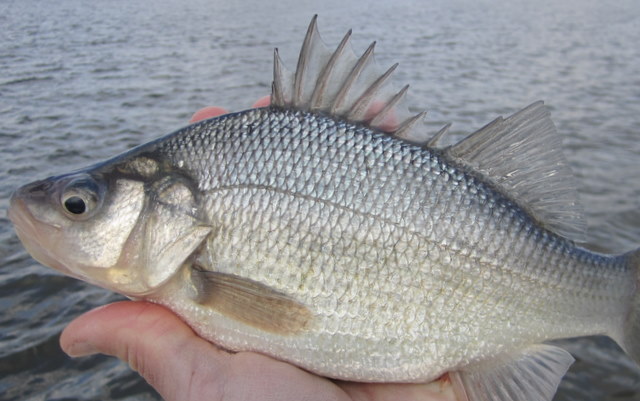 Barometric Pressure
30.01
These fish are silvery and frequently have irregular dusky longitudinal lines along its body.
They have a slightly projecting lower jaw and small teeth.
Their dorsal fins are separate and their anal fin possesses three strong spines.​
often confused with white bass, frequently caught together
White perch bite is on! Saw some buckets full yesterday. Water level is the lowest its been in 7 weeks..may even be able to get to Bluegrass island today to targert  some white bass and smallmouth bass.
During their spring spawning runs, white perch are caught with live and cut baits as well as artificial lures.White perch congregate in large numbers in the river and lake to spawn approximately from April through June. During the spawning season, they are easiest to catch as their movement and feeding activity is at its highest. The second time where white perch are easiest to catch is during the months of September through November.
White perch respond well to all styles of angling and most common types of fishing gear, making them a non-finicky species that is great for beginners. However, mimicking the way the target food of a white perch fish move can increase your changes of success. In the wild, white perch chase smaller fish to the surface where the small fish leap out of the water. Worms just off the bottom work great.
Have fun, be safe and good luck fishing.
Suggested Baits