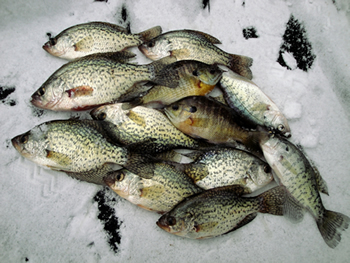 Barometric Pressure
29.69
Tungston Ice fishing lures-Tiny heavier lures give us  the ability to use smaller jigs. Often times, when the bite slows down, downsizing your presentation can help convert more "lookers" into "biters". In these conditions, tungsten is truly in a league of it's own. Tiny micro tungsten jigs can be fished through the water column with ease, where a similar sized lead jig would be extremely inefficient.Tungsten is almost exactly 1.74 times denser than lead. This makes tungsten lures MUCH heavier than it's lead counterparts- drops quicker, straighter line equals better sensitivity.
So obviously we have a late freeze this year, winter didn't hit us until February- crazy I know. That being said it's kind of strange to be gearing up for ice season and walleye season all at the same time. Unfortunately the ice season probably won't be very long lived as we have spring weather  about a month away.  No telling what the Maumee River Walleye I run is going to be like this year with this late freeze. When they start coming up the river all depends on water temperature, with around 40°the  magic number
A reminder that the Maumee river is formed at the confluence of the St Joseph and St Mary  rivers, at Ft Wayne, IN and rolls northeast ward for 137 miles  through mostly farmland ,before flowing into the Maumee Bay of Lake Erie. SO when The Ft Wayne area gets significant weather in one form or another the river levels and temps are affected here in Maumee/Toledo area.
Shop news :
Store hours change  Saturday February 27th-  6 am to 8 pm.
We will be fish cleaning headquarters this year – First: our very own Cpt Daryll Smith will be back cleaning for both the Walleye  and White bass run. And we are excited to welcome back renowned slicer and dicer Josh Halterman ,who will be set up in our lot as well. No more long waits, 2 cleaners -zip zip -walleye cleaned and bagged for your convenience.  As we get closer to the run and we see that first fish I will let you know when cleaning starts.
Bulk Items – We have plenty of tails and floaters for the run  but in the past we have  offered bulk quantities of twister tails and floating jig heads at a discounted rate off our already low price. Cant do bulk this year since covid has the supply chain all messed up and manufactures and shippers cant keep up, plain and simple just couldnt get extra quantities.   We will be fine for the run with all your needs , nets stringers, jigs , floaters rods reel , waders and the rest of the gear . Now ,we wait on the fish.
Have fun be safe and good luck fishing.
Suggested Baits
Warning
: Invalid argument supplied for foreach() in
/srv/users/mbtuser/apps/maumeetackle/public/wp-content/themes/maumeetackle/report-single.php
on line
41