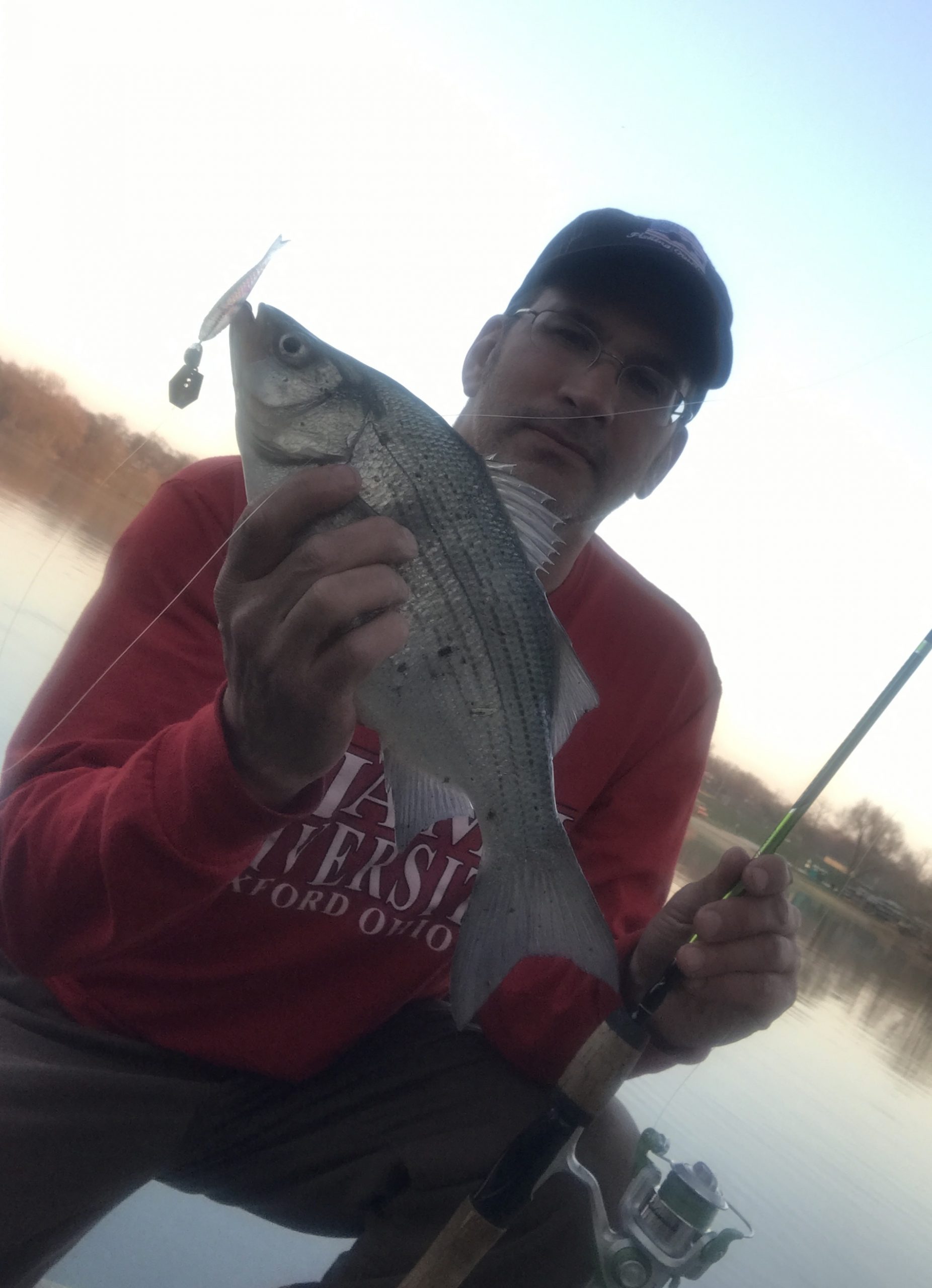 Barometric Pressure
29.55
Wading to Bluegrass is permitted.
Alright here we go! Great fishing conditions- The weather is pleasant, the walleye limit is 6 , night fishing is permitted, crankbaits and spinners with treble hooks are permitted and 2 poles per angler are allowed as well.  We are fully stocked with emerald shiners and night crawlers.  We will have leeches and crayfish in a week or two.
Faster water: Bluegrass , Buttonwood and Jerome rd rapdis–I expect to see some 6  walleye limits come out of these areas today.  The river still has a significant amount of walleye spawning in the river. We saw a female full of eggs yesterday and a lot of jacks  so it bodes well for the next few days of walleye fishing. At night these fish become very active, Small crank baits and darker colored tails on a Carolina rig will do the trick.
Slower water: Orleans , White street and Ft Meigs- We started seeing some nice white bass coming in yesterday. I stopped at White street last night for 10 casts and got 4 white bass on a Chatterbait. (see featured picture)Â  Throw a lead head with a pink, white or silver tail- Chaitterbaits and roostertail spinners are deadly for these aggressive fish. No size or number limit.
Lets clarify because it seem many have questions about White bass limit.- Per the reg book. Page 6 at top– State wide Regulations-"These regulations apply to all public waters in Ohio where site-specific regulations are not implemented. Exceptions to these regulations include Lake Erie and its tributaries, locations listed in the Site-Specific Waters, Pymatuning Lake, and the Ohio River."
"Site Specific" are the key words here- Next follow on down to page 7 .Site specific waters Including the Maumee River-
"Regulations apply to Lake Erie proper and areas immediately upstream in creeks, rivers, and tributaries. The following regulations for walleye (and sauger and saugeye), yellow perch, black bass (largemouth, smallmouth, and spotted), and white bass apply to the waters of Lake Erie, its embayments including Maumee Bay, Sandusky Bay, East Harbor, Middle Harbor, and West Harbor, and from where Lake Erie tributaries enter the lake upstream to the following end points:
All statewide regulations apply to Ohio waters of Lake Erie EXCEPT for those listed below:
Arcola, Wheeler, Cowles, and Indian creeks:Â U.S. Route 20 bridges;
Ashtabula River:Â E. 24th Street bridge;
Black River:Â State Route 611 bridge;
Conneaut Creek:Â Main Street bridge (downtown to Conneaut);
Euclid Creek and Chagrin River:Â State Route 283 bridges;
Rocky River:Â Detroit Road bridge;
Sandusky River:Â Ballville Dam;
Maumee River:Â First dam upstream (Grand Rapids, Ohio);
Vermilion River:Â State Route 2 bridge;
Grand River:Â State Route 535 bridge;
Cuyahoga River:Â Harvard Road bridge.

All statewide regulations apply to Ohio waters of Lake Erie EXCEPT for those listed below:

SPECIES
DATES
DAILY LIMIT
MIN. SIZE
Largemouth, Smallmouth,
& Spotted Bass
March 1 – April 30, 2018
5 (singly or in combination)
14 inches
May 1 – June 29, 2018
Possession is prohibited
None
June 30, 2018 – Feb. 28, 2019
5 (singly or in combination)
14 inches
Walleye, Saugeye,
& Sauger
Jan. 1 – Feb. 28, 2018
6 (singly or in combination)
15 inches
March 1 – April 30, 2018
4 (singly or in combination)
May 1, 2018 – Feb. 28, 2019
To be announced
White Bass
Open year-round
None
None
Yellow Perch
March 1 – April 30, 2018
West Zone, 30
Central Zone, 30
East Zone, 30
None
May 1, 2018 – Feb. 28, 2019
To be announced
Thanks for the calls –
Have fun be safe and good luck fishing
Suggested Baits