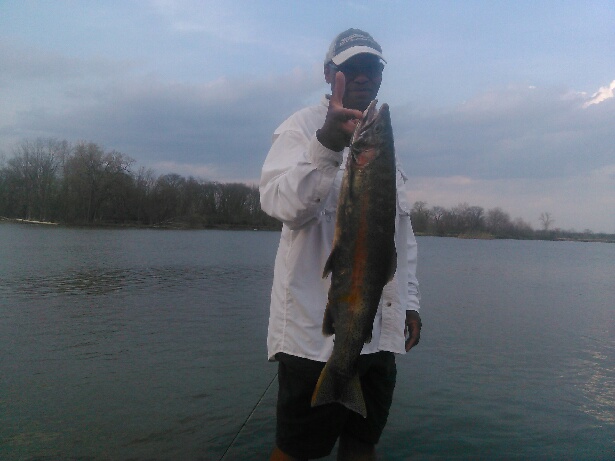 Water Temperature
60 degrees
Barometric Pressure
29.95 and dropping
Wading to bluegrass is permitted.
Well I'm sure you heard from your buddies uncles friend or some dude named Paulie that you met on the river( you know the same guy that has all the regulations memorized) ,  that the walleye have stopped running- The anglers with their 6 walleye limits the last 3 days beg to differ.
Oh yea-the white bass are in as well.
Walleye- White Bass- Steelhead- Catfish-Smallmouth Bass- all these species were caught right here in Maumee yesterday-It really doesn't get much better than this.
Pinks,White and Green  twister tails and roostertails are hot baits right now.
Today we are going to get some rain but thats ok the water has been very low so we should see the river come up just a little bit – all areas will still be accessible. Its going to rain off and on the next coulpe days but the weekend ought to be relatively clear.
Walleye limits are mainily concentrated in the faster water-Bluegrass, Buttonwood and Jerome rd but seeing one and twos all up and down the river.
Have fun Be safe and good luck Fishing
–
Suggested Baits