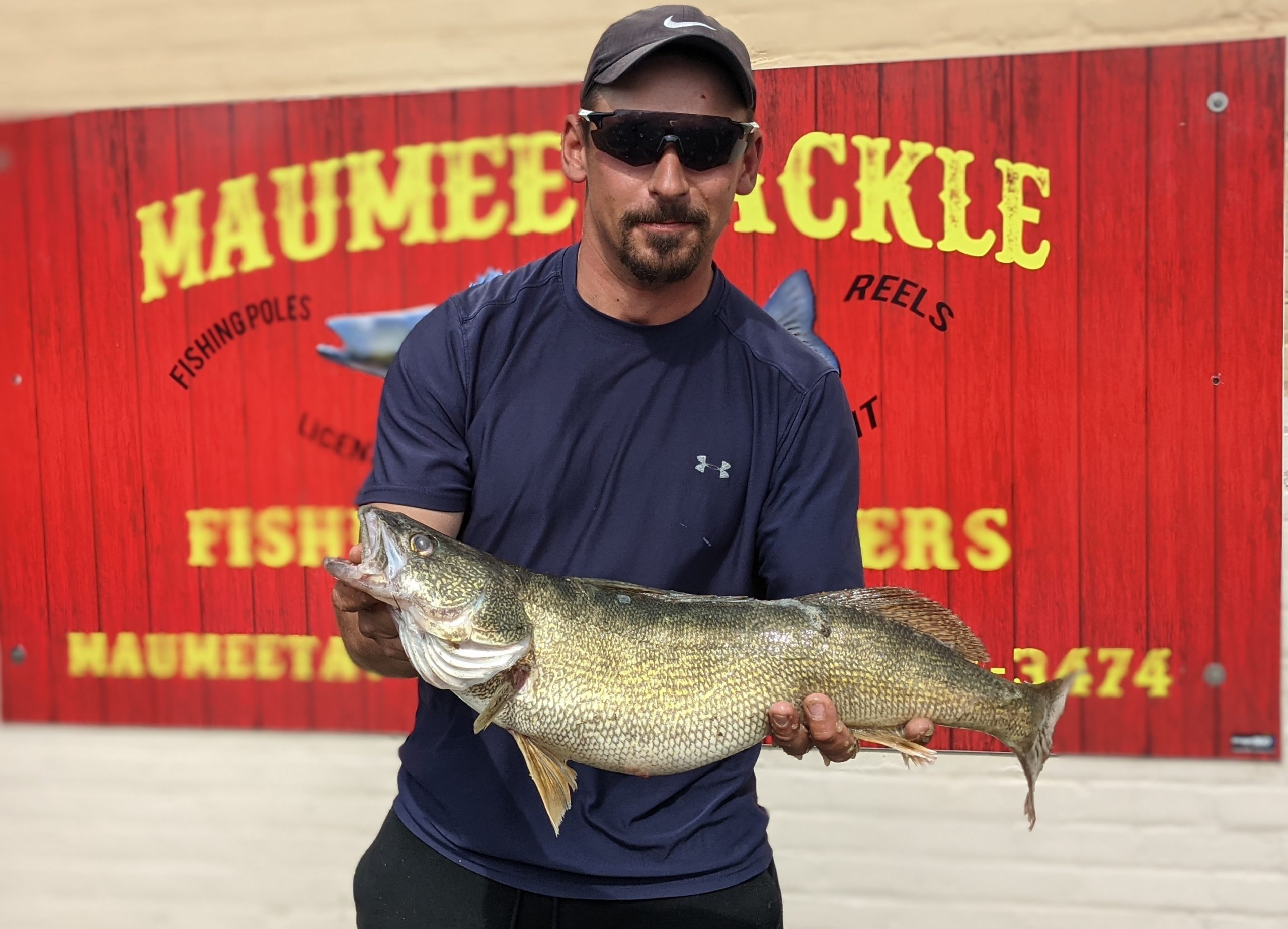 Water Level
583- no wading to bluegrass
Business note: We have to create a new Facebook page it will look the same as the old, and function the same-Â  but for some reason we've been locked out of the old site, Facebook etc etc so we have to start from scratch.. it will be titled "Maumee fishing kayak and shooting outfitters". – like and follow.
As always the reports will be posted on our website  even if facebook/instgram sharing isn't working. maumeetackle.net click on   river reports
White bass and walleye bite has been slow-cold nights  last week and high water slowed it down. Walleye on the way out -white bass just starting up.
White bass caught on ultra-lite equipment, will outfight about anything in the river… except probably  smallmouth bass. If you find a bunch of those big female white bass, you can wear yourself out just trying to get a dozen or so landed.When you land on a good school of them, the action can be fast and furious.
Saturday May 15th-Rain or Shine
Maumee Tackle WHITE BASS Tournament
104 W. Wayne St. Maumee,OH,43537
419-893-3474
KAYAKERS WELCOME AND ENCOURAGED
Entry Per Angler- $20.00
$10 per Angler for big fish
WHITE BASS RULES- THIS IS AN INDIVIDUAL ANGLER TOURNAMENT-NO TEAMS
1. TOURNAMENT LIMIT IS FIVE FISH PER ANGLER.
2. START TIME IS 7:00AM. WEIGH-IN IS AT 1:00PM. ALL CONTESTANTS MUST BE AT THE WEIGH-IN AND CHECK IN AT THE CHECK-IN TABLE NO LATER THEN 1:00PM OR BE DISQUALIFIED. NO FISH WILL BE WEIGHED IN BEFORE 1:00PM.
3. ALL FISH MUST BE CAUGHT BETWEEN ORLEANS PARK AND JEROME RD AT SIDE CUT METRO PARK.
4. BOATERS and KAYAKERS MUST COME TO THE SHOP FOR BOAT INSPECTION ( SAFETY EQUIPMENT ). WE WILL BE OPEN AT THE SHOP AT 6:OOAM TOURNAMENT DAY.
5. ALL DECISIONS BY THE TOURNAMENT DIRECTOR ARE FINAL.
6. EACH ANGLER MAY KEEP THEIR WHITE BASS. YOU MUST SELECT YOUR FIVE HEAVIEST WHITE BASS BEFORE APPROACHING THE SCALES. HAVE YOUR FISH OFF THE STRINGERS PLEASE.
7. ALL WHITE BASS MUST BE FREE OF ANY SNAG MARKS. IF YOU CATCH A WHITE BASS THAT HAS A SNAG MARK OR ANY CUT THAT LOOKS LIKE A SNAG MARK IT WILL NOT BE WEIGHED. PLEASE INSPECT YOUR FISH. WARTS ON FISH ARE NATURALLY OCCURRING AND WILL NOT BE LOOKED UPON AS SNAG MARKS, UNLESS OF COURSE IT HAS A CUT.
8. NO ICED OR FROZEN FISH.( WE KNOW WHAT A DAY OLD WHITE BASS LOOKS LIKE) ALL FISH MUST BE CLEAN OF ANY DIRT, MUD OR DEBRIS. TO RETAIN BEST WEIGHT OF YOUR FISH, IT IS WISE TO PUT THEM IN A COOLER WITH SOME RIVER WATER . ALIVE FISH ARE BEST BUT NOT PART OF THE RULES.
9. ALL STATE FISHING REGULATIONS MUST BE ADHERED TO.
10. ALL BOATERS MUST WEAR THEIR LIFE VEST WHILE THE GAS ENGINE IS RUNNING.
11.THERE IS NO MINIMUM AGE LIMIT OF PARTICIPANTS. ADULTS MAY ENTER THEIR KIDS INTO TOURNAMENT WITH OUT HAVING TO ENTER IT THEMSELVES.
12. ANY ANGLERS POOLING THEIR FISH TOGETHER WILL BE BANNED FROM FUTURE TOURNAMENTS AND MAUMEE TACKLE .
PAYOUTS WILL BE 1ST , 2ND AND 3RD PLACEÂ 
Have fun be safe and good luck fishing. 
Suggested Baits