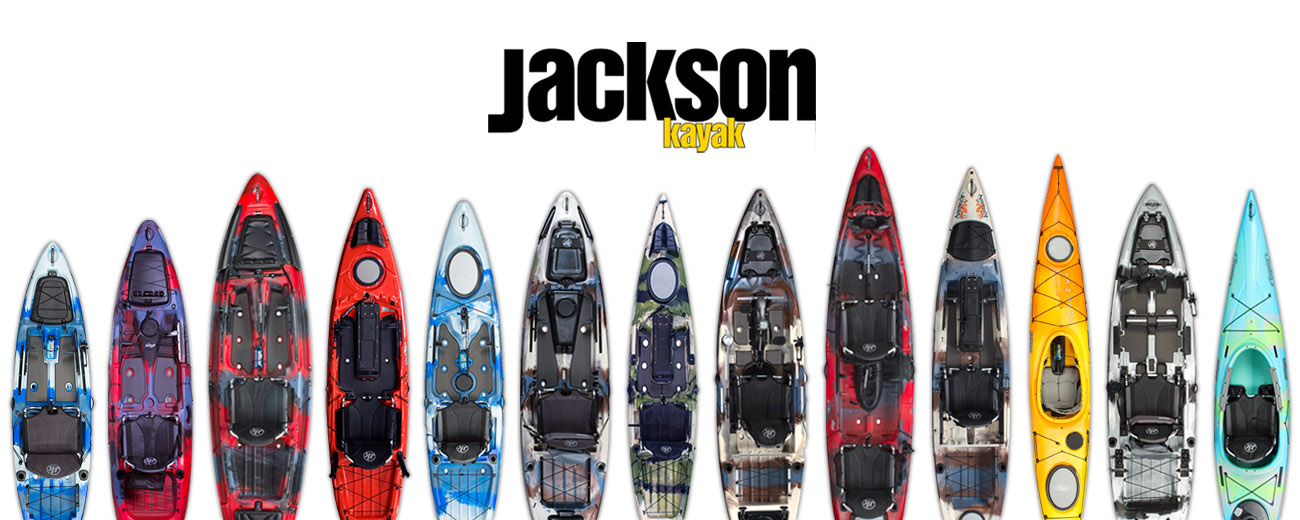 Barometric Pressure
29.55
The river is still low after that rain but cooling nicely so we should see some good walleye and steelhead action real soon.  I have been hearing the crappie bite has been getting better as well as the water cools.  I stocked up on the mini-mites and a whole bunch of new colors on the crappie tubes, been seeing some good results with those. We have emerald shiners as well.
KAYAKS-
Well finally we got a resupply of kayaks in so that we can fill our empty kayak showroom. First load of JACKSONS in fresh out of the factory.
Here is a quick rundown of what we have in stock now.
All Jacksons–
COOSA-The Coosa is the answer to the evolving needs of the river and small water kayak fisherman. It's 11'2" length and rockered hull make it the most sporty and nimble Jackson Kayak to best handle those smaller waters and especially wild rivers and creeks.
BITE ANGLER– Easily accessible tackle storage located along the gunnels provide a convenient spot for stashing tackle boxes, and rod stagers are molded into the geometry of the deck for quick rod changes. The open-concept deck has been long-awaited from Jackson, giving the paddler ample storage space fore and aft along with a system of touring-style bungie cords. These areas are perfect for crates, hard and soft coolers, dry bags of gear and more for daily usage and long exploration trips.
BITE FD-The Bite FD is a pedal kayak that is designed from the water up to provide you with top performance without requiring a lot of maintenance. Bite FD focuses on three key factors: power, propulsion and steering. The deck offers unbelievable stability for sitting or standing. The front and rear both provide impeccable storage space to haul all of your gear and they feature durable bungie cords to keep that gear secure on your wildest adventures. We've also included  gear tracks for you to easily attach your accessories and customize your kayak the way you want.
RIVERIA-The Riviera is Jackson Kayak's blend of easy and FUN! Designed for its simplicity, the Riviera is a great option for those looking for an easy to use, easy to store and comfortable sit on top. The high back on the seat gives you the comfort and support you need to to enjoy your paddling adventures, and with very few moving parts, the Riviera is sure to provide fun for a lifetime. A small day hatch in the center provides semi-dry storage for your lunch, sunblock, or other accessories you might need close at hand.
LISKA-Versatile inshore/lake kayak fishing platform, track systems. Wider hull creates a more stable standing platform than the original Cuda, meaning it is better suited to larger paddlers, beginners, and more gear. Stand and sit with ease – comfortable, padded standing area is standard.
YuPIK-Named for the native Alaskan peoples that coined the word "kayak" (qayaq), the Jackson YuPIK changes the very definition of versatility. Bow To Stern track systems, rigging solutions and storage pockets molded in along the entirety of the boat allows the modularity for you to rig for your adventure without limitation. Customize your fun with more room! Specialized accessories, like our new kennel cot, improves the experience for everyone. Additions like the fully trimmable seat pan, our Strap Down gear track for 360 storage security and the first ever moving standing pad system make the YuPIK the most versatile kayak on the market
TRIPPER-The Tripper is based on the stable and versatile Kilroy hull. This sit-inside recreational kayak is designed for fun family adventure. The Tripper 12 comes with loads of storage space, our super-comfy Hi-Lo Ergo Seat, and never ending ways to personalize it for your own use. Its extra-large cockpit makes it perfect for taking along your furry friend. Load it up for a long adventure, fishing, or simply take it out for a quick leisurely paddle. Get there with the Tripper
BIG TUNA-The Big Tuna is one of our largest capacity kayaks with the ability to paddle either as a tandem or a solo fishing kayak. It has many different seating positions allowing for traditional tandem positions, 'facetime' positions and a good variety of solo positions making it a great platform for fishing of all kinds. Its JK stability, logical accessory positioning, rudder option, and speed make it a serious predator in all water types. Unique "Tuna Tank" can be used as a livewell or dry storage.
HAVE FUN BE SAFE AND GOOD LUCK FISHING
Suggested Baits