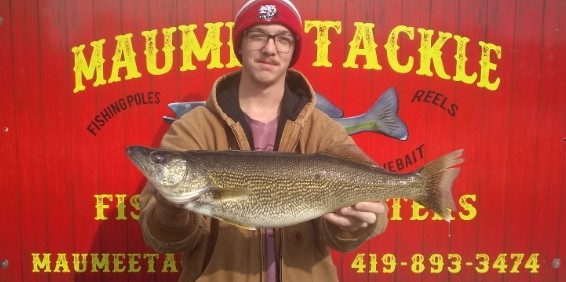 Barometric Pressure
29.76 inHg. falling
Like I've been saying- as the water cools the fishing should get better. Our man in the water Kam picked up this beauty out on the piers last night.  Fire tiger colors- husky jerk and bombers are the ticket. 
*click on images to enlarge*
Waders are on the way- stock up now before the spring rush.  With the shutdowns in last spring supplies are very tough to come by ..the way its looking now once we get stocked up this season there wont be much else comig in the late summer. –Yea crazy .
KAYAKS- EVERYTHING IN THE SHOP MADE IN THE USA!
*click on images to enlarge*
If you've been searching for a kayak then  you are aware that we reached extreme shortage levels over the summer . Well we finally have a good variety back on the shop floor here in Maumee. 
Our first shipment of Perception and Wilderness Systems  arrived today.   We have a nice line of Jackson Brand kayaks in stock as well. The really cool thing is we now have tandems in stock as well. If you're looking for a way to enjoy the outdoors  and nature -kayaking is  fun, relaxing, and gets your body moving. 
To name a few of the models we have- 
SOUND 10.5
RAMBLER TANDEMS
ATAK FISHING 
TARPON 10.5 
OUTLAW FISHING KAYAK
TRIBE 13.5 TANDEMS
Stop in or give us a call -we will be updating the website soon to reflect what we have in stock.  
Have fun , be safe and see you on the water. 
Suggested Baits
Warning
: Invalid argument supplied for foreach() in
/srv/users/serverpilot/apps/maumeetackle/public/wp-content/themes/maumeetackle/report-single.php
on line
41