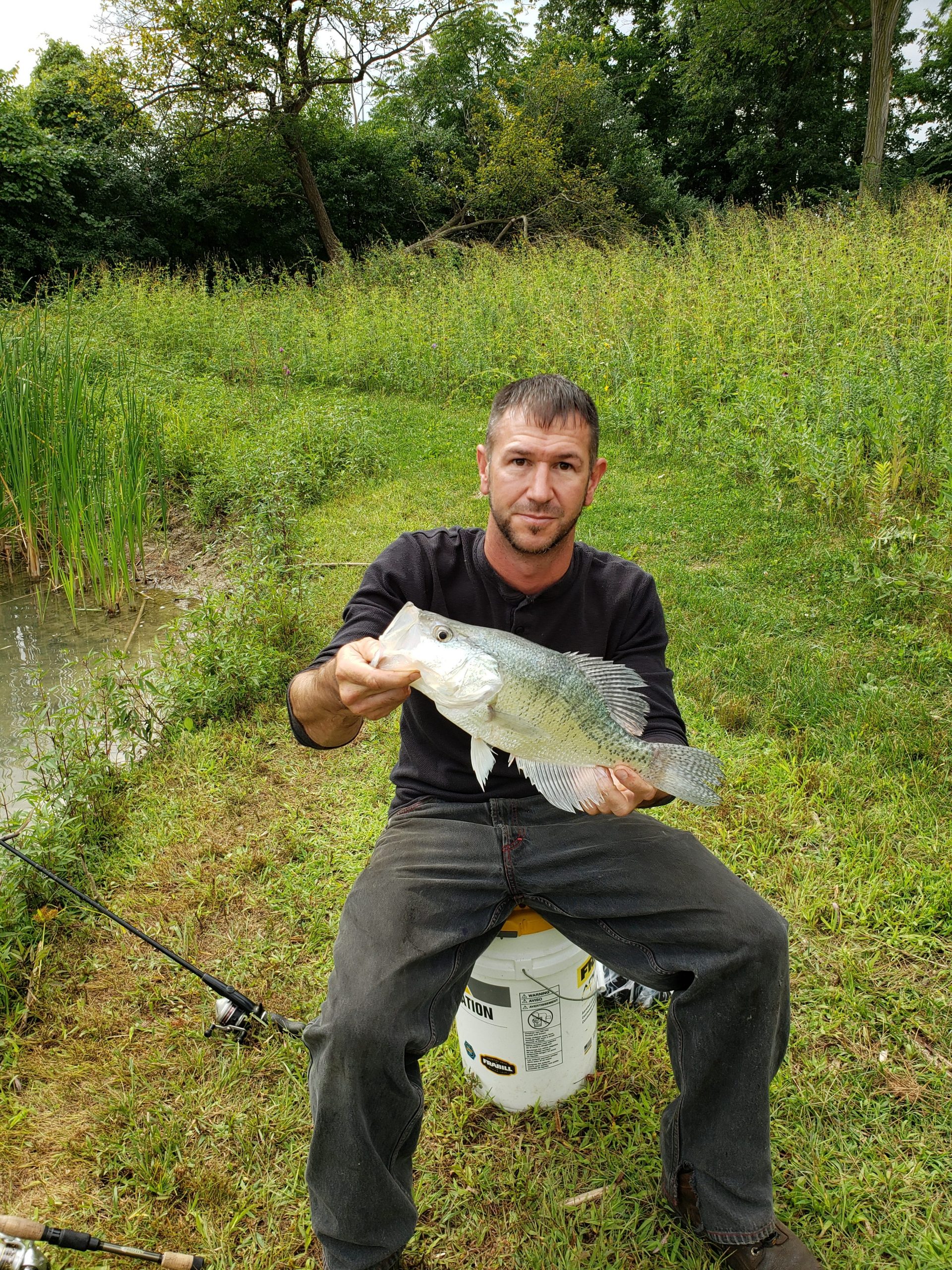 Barometric Pressure
30.27 in
Lookee this Big Ole Crappie!    Michael F. got this beauty the other day, measured out at right around 16 inches. 
It's great to have a boat to hit the river or lake and catch a boat load of fish. However, for fall crappie you can find success and have a great day from land if you know what you're doing. Here are three locations to catch fall crappie from the shore.
1.  Up The Creek- Most have access within a short walking distance. Access will often be from a backroad or where a bridge crosses the creek. Some have parks or picnic areas that provide easy access.  Search out laydowns, old stumps or other cover where fish might hide. Start at the outside edges of brush or laydowns and work toward the inside,sometimes the best bite is usually in the heart of the cover, but you can pick off aggressive fish from the edges without disturbing those deep in the thick stuff.
2. Spillways for Crappie and More.-Spillways  from mammade dams can be great spots spots for shore fishing. Low oxygen levels and water temperature from a hot summer can  all be stressful on the fish. But in the spillway the water will be cooler and dissolved oxygen levels are great. The fish feel better and are more active. With fairly uniform oxygen levels throughout the water column of a spillway, crappie can be at any depth. Every spillway is different so there are no exact spots that work everywhere. However two important features, current and eddies, are present at all spillways. Many fishermen use a cast and retrieve tactic, but their baits don't stay in the strike zone long enough. Use a float like the to stay above the rocks and to find the eddies. Once a float gets in an eddy it will circle around, which is perfect because the eddy is where baitfish and predator fish are holding. The bite usually happens quickly.
3. Boat Docks/ Marinas
Boat docks are well known crappie magnets, but most boating crappie anglers hit the fronts and maybe halfway down the sides. During fall, especially early and late in the day, the bank-side of docks can be more productive.Target brushpiles and cover near the backsides of the docks. Sometimes you can see them but most of the time you'll have to find them by retrieving your bait between the dock and bank. Keep raising the slip float to put the bait deeper until you find cover.
Have fun be safe and good luck fishing
Suggested Baits