LEVEL-584 and dropping
TEMP- 48 Â degrees
Barometer: 29.86 and falling
Wading to Bluegrass Island is NOT possible
Clarity-4 inches
Sunrise : 7:15 AM (First cast)
Sunset: 8:01PM (Last cast)
Congratulations to Brian Wallace our weekly Big jack Winner-Coming in at 6.55 lbs last week off of Bluegrass Island
River level is at 584 ft above sea level ,and will continue to drop throughout the day .
Despite the high water conditions we saw some a few limits come out of the river over the weekend, Sunday being relatively productive as the water began to recede and some of the debris was cleared out. We did see anglers caught singles and and doubles.
Today the water level is down a foot from yesterday but still not low enough to safely wade to Bluegrass Island. All this water is great for the fish and has the river full of walleye , but it keeps us fishermen all restricted to a few safe places to fish. but as you can see by the pictures that we post every day if you use the right techniques and target the correct places in the river you can get some walleye on the stringer regardless of the conditions. Walleyes are in high water move to flooded shoreline areas, because that's where the food is, that's where the cover is, and that's where the current is not as strong.
Pay attention to immersed shorelines that feature rock or riprap along with timber. You  wants some current but not a swift whitewater rapid,and if the flow is slowed by rocks or a logjam, the resulting eddy is especially appealing. During an exhausting breeding season, walleyes won't journey farther than they need to. They require only baitfish to eat and a safe place to rest. Flooded shorelines have both.The challenge on the Maumee is its brushy and rocky bottom. The very rocks and lumber that walleyes favor are a frustration to anglers. Use short casts  to maintain control, strikes  usually occur while the jig is on the back end of the drift . Set the hook hard and don't relinquish much play until the fish is clear of the snags. The Maumee river also eat jigs, especially snarled shoreline cover. So be prepared to lose a few jigs, not to mention fish. If the spot produces a few fish stay on it awhile. Well-equipped areas invite a continuous string of newcomer walleyes. Patience is a virtue in these circumstances.
Still stick with the larger and medium sized heads – larger heads and twister tails have been working better in this low viability mud filled water, presenting a bigger bait target and and better vibration.
Be safe, Have Fun and good luck fishing
Weight:3/4 to 1 1/2 oz with increased flow and depth going heavier weight to touch bottom
Leader:36inches
Colors: Orange head/black Tail – Whitehead / Purple tail – Red head/ pink tail – Glow head/ glow tail
TodayShowers likely, mainly after 2pm. Cloudy, with a high near 59. East wind 5 to 8 mph. Chance of precipitation is 70%. New precipitation amounts between a tenth and quarter of an inch possible.
TonightShowers. Low around 49. Southeast wind 8 to 11 mph becoming southwest after midnight. Chance of precipitation is 80%. New precipitation amounts between a quarter and half of an inch possible.
TuesdayA chance of showers, mainly before 11am. Cloudy, with a high near 57. Breezy, with a southwest wind 15 to 21 mph, with gusts as high as 34 mph. Chance of precipitation is 40%. New precipitation amounts of less than a tenth of an inch possible.
Be safe, Have Fun and good luck fishing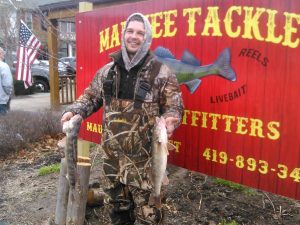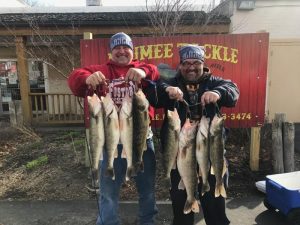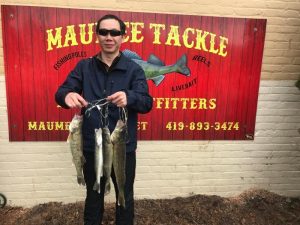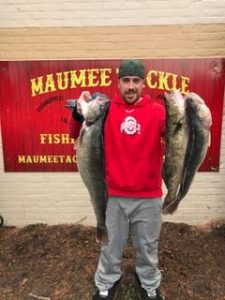 Suggested Baits