Maumee River
LEVEL-586.5
TEMP- 45.5 Â degrees
Barometer: 29.79 and steady
Wading to Bluegrass Island is NOT possible
Clarity-3 inches
Sunrise : 7:08 AM (First cast)
Sunset: 8:06 PM (Last cast)
The wind held off yesterday and we saw a lot of good fish caught. The early bite was again the best but we saw limits taken all through the day..that river is chock full of walleye and this high water is just bringing more and more in. Orleans,White street, Ford street , all along the Towpanth, Ft Meigs and Maumee side drain pipe were the hotspots. Saw some limits taken just behind Clarences van by Bluegrass as well.
Many anglers are hanging up their fishing poles and waiting for the water to subside. That's OK. Fishing a pond or lake instead is OK too. many local reservoirs have trout stockings going on now and in the coming weeks. But even with high water in the river, fish can be caught, and all you have to do is change your presentation. When the river is on the rise, currents also increase in speed and walleye don't want to fight the current. So every movement they make they're using energy. What walleye do is change locations and ease into in places that suit their needs.
The slowest moving water in a high river will be close to the banks. And because the water gets a bit muddy after big a rain, the cleanest water will be found along the river's edge's as well.
Walleye will look for slack water, current breaks and eddies. They'll migrate to areas where cleaner water can be found. They do this in their need for a comfort zone. It's only natural that the fish seek water where they can see better, smell better and use less energy. It's an instinct for survival. Fishing under these conditions is like exploring new territory. It surely is a challenge when water is muddy and crawling up the banks. That's what makes it fun. Dont worry eventually the high waters will recede and things will get back to normal.
Use caution today when fishing this high water today-keep an eye upstream for floating debris
Outlook: We have entered into what is traditionally the peak of the walleye run . Ohio Department of Natural Resources fish surveys have seen large numbers of walleye in the spawning areas. High water will make the river difficult for anglers over the next few days.
The walleye run traditionally peaks during the first half of April so lots of fish in the river right now. Fishing should be good as the river drops to more normal levels. Fishing Pressure is and has been very low .

Weight:3/4 to 1 oz
Leader:36-48 inches
Colors: Orange head/Xmas Lights Tail – Yellow head / firetiger tail – Red head /Pink sparkle tail – orange head/ White tail
Lake Erie
Where: Over the past week walleye have been caught on the reef complex north of Camp Perry, from Catawba Island to the Camp Perry firing range, and between South Bass Island and Kelleys Island.Most fish were caught by trolling with crankbaits, but some have also been caught by vertically jigging.
The Lake Erie water temperature is 43 off Toledo and 40 off Cleveland according to the nearshore marine forecast.
Weather Report
FridayA chance of snow, mainly before 7am. Cloudy, then gradually becoming mostly sunny, with a high near 46.
Friday NightMostly clear, with a low around 29. West wind 6 to 9 mph.
SaturdaySunny, with a high near 58. Southwest wind 5 to 11 mph.
Have Fun Be safe and Good LucK Fishing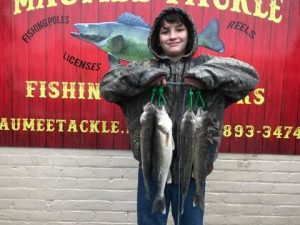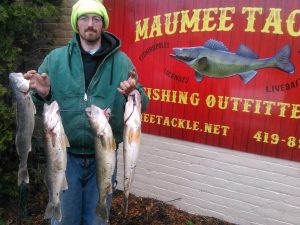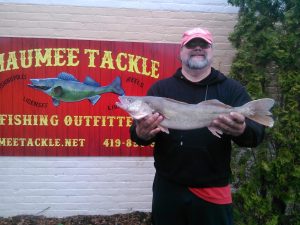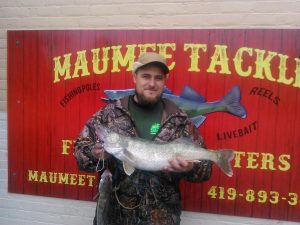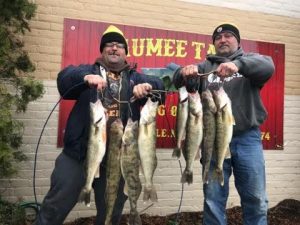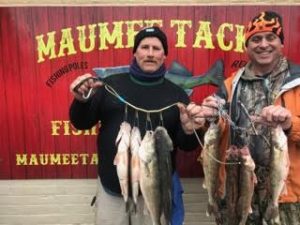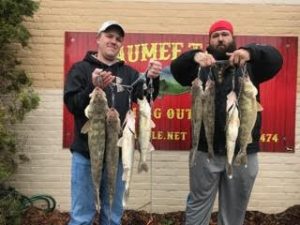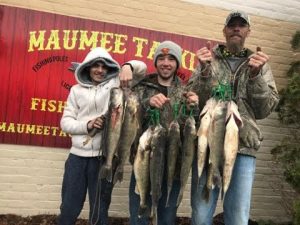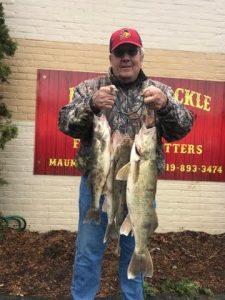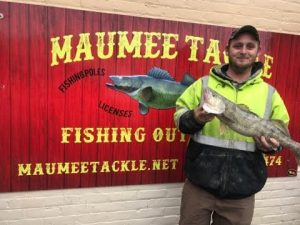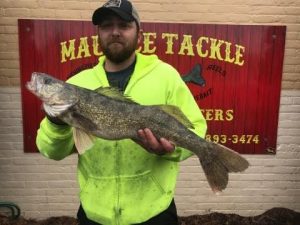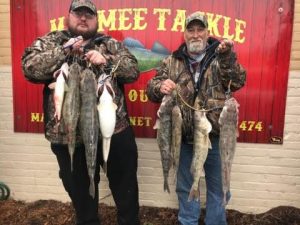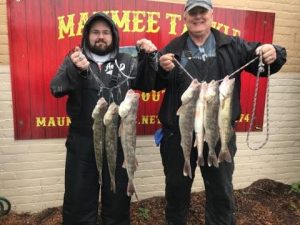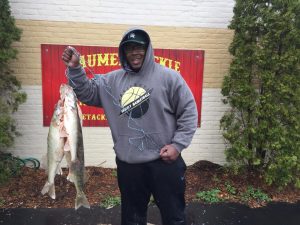 Suggested Baits