LEVEL-584.5 and dropping
TEMP- 48 Â degrees
Barometer:29.14 and rising
Wading to Bluegrass Island is NOT possible
Clarity-4 inches
Sunrise : 7:03 AM (First cast)
Sunset: 8:09 PM (Last cast)
What a beautiful weekend we had , the weather cooperated and it made for 2 very pleasant days for hitting those walleye. Yesterday we did see success just about anywhere that you could get a line in the water. Orleans, white street and ft meigs downstream were the most crowded so that's where we saw the most fish taken from. As the weekend progressed and the water level dropped ,every one that spread out and headed upstream to button wood and Jerome road area also seemed to be getting into a good number of fish.It is still looking like we may not be able to wade to Blue grass island until mid week, of course it depends on how fast the water drops.
Today the water is accessible in just about all areas except Bluegrass. Orleans park and White Street will still be very productive at this slightly higher water level. Between today's warm temps, dropping water and a river FULL of spawning walleye we really cant ask for a much better day.
Weight: 5/8 oz -3/4 oz
Leader:36-48 inches
Colors: green or orange head/ black tail ( this was very productive combo )- white head /blue sparkle tail – Red head /pink tail – glow head/ glow tail
Weather Report
TodayMostly cloudy, with a high near 75. Breezy, with a southwest wind 13 to 21 mph, with gusts as high as 32 mph.
TonightA chance of showers and thunderstorms before 11pm, then showers likely and possibly a thunderstorm between 11pm and 1am, then a chance of showers and thunderstorms after 1am. Mostly cloudy, with a low around 56. Southwest wind 11 to 13 mph. Chance of precipitation is 60%. New rainfall amounts between a tenth and quarter of an inch, except higher amounts possible in thunderstorms.
TuesdayPartly sunny, with a high near 63. West wind 11 to 16 mp
Have Fun Be safe and Good LucK Fishing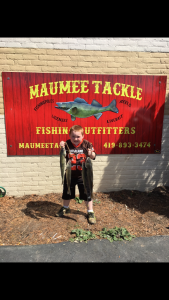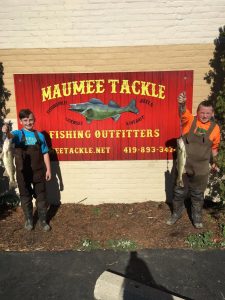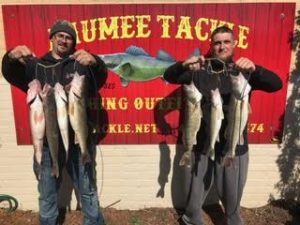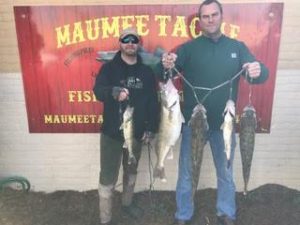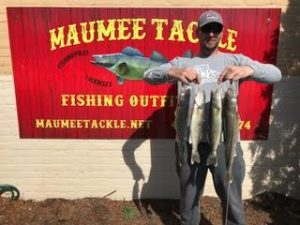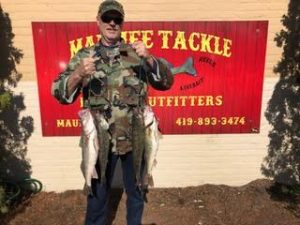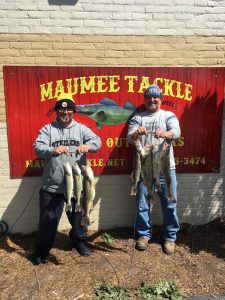 Suggested Baits