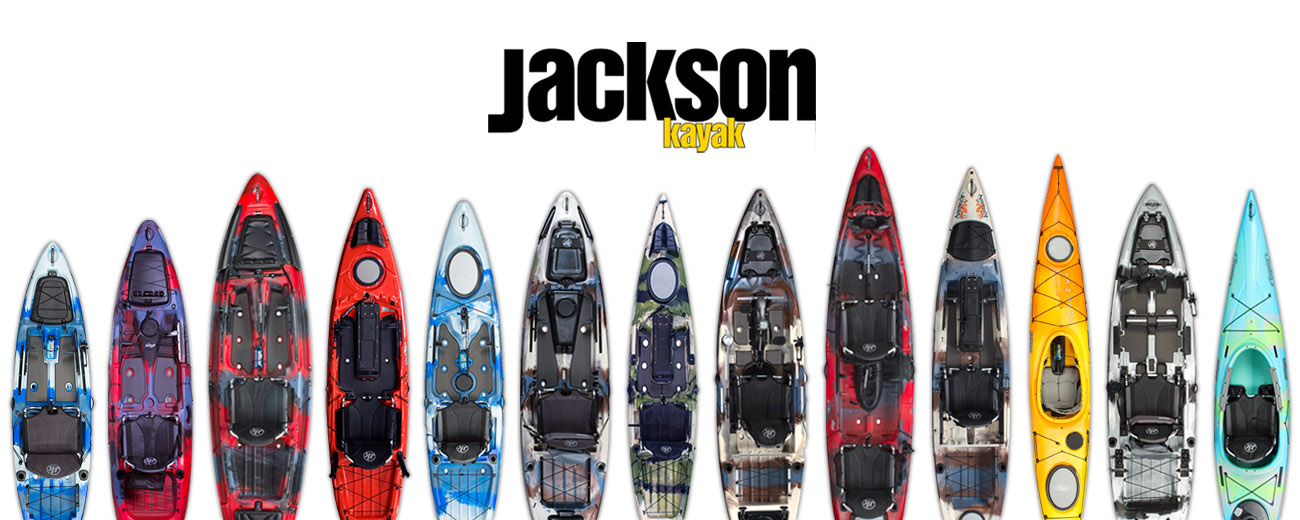 Barometric Pressure
29.69 inHg. rising
Happy Paddlers
Black Friday Sale -20% off all in stock kayaks and accessories!
JACKSON KAYAKS ENRICHÂ AND EMPOWERÂ THE EXPERIENCE FOR WATER ADVENTURERS, AVID ANGLERS, OUTDOORSMEN AND PET OWNERS SO THAT THEY CAN ENJOY THE SPORTS THEY ARE PASSIONATE ABOUT WITH GREATER FREQUENCY, DEEPER CONNECTION, AND ENHANCED CONVENIENCE.
What if kayaking was part of your daily routine?
Pelican Kayak Brand
No doubt about it, the Pelican kayak collection is for the the serious kayak angler thru the first time recreational kayaker at an affordable price.  Well planned out accessories help keep everything conveniently stowed and these boats are light enough for most people to carry and launch on their own! Pelicans are specially designed for those looking for an easy to store option.
Black Friday Sale -20% off all in stock Firearms and ammunition.  
Our new product line is  part of the ongoing evolution of our company's brand. In the age of big box outdoor stores, we here at Maumee Tackle are still trying to keep it personal. Bringing in firearms just adds to the "old-fashioned sporting goods store" feel that Maumee Tackle customers enjoy.
Black Friday Sale -20% off all in stock Fishing equipment , Rods  and Reels , Waders , Bait and more!  
That's right, we got our Federal Firearms License, and we have brought in a small rack of firearms and ammunition. Stop in and see what we have to offer ..special orders available and online firearm transfers  just $25.
Entire store 20% on sale  Black friday November 29th only !
ANNUAL GIFT CERTIFICATE PROMOTION-NOW UNTIL CHRISTMAS- PURCHASE A $50 GIFT CERTIFICATE GET AN ADDITIONAL $10 ! 
Lake Erie:
As Lake Erie continues to cool, the huge schools of gizzard shad move to warmer shallow waters, especially in and around the mouths of the rivers, including the Maumee River. The big walleye follow the shad and feed mostly after dark. This fall, fishermen have been catching walleye and steelhead trout for weeks while casting from shore . Reports of night fishing success have arrived from just about every outcropping along the Lake Erie shoreline. Fall night-fishing from piers for walleyes is like angling anywhere — sometimes sizzling, sometimes not. The fishing can be spotty because the walleyes follow the food, mostly gizzard shad. If the shad stay offshore, so do the walleyes. But if the shad come in close, you can go home with a limit.
Typically, shad schools hug the shoreline when offshore waters cool quickly. A chilly October tends to create better shorefishing than a mild October, but there are exceptions. November usually produces more consistent fishing, with water temperatures in the mid-40F range the key. In many years, walleyes can be caught from shore well into December. These fish tend to be large females that spent their summer in the Central and Eastern basins of Lake Erie, They then migrate back west, where they stage until spawning in spring. In fall, they're on a major feeding binge because of lower water temperatures and an abundance of high-energy preyfish. It's not uncommon to catch multiple walleyes over 10 pounds in autumn, though the average fish is between 4 and 8 pounds.
Have fun, be safe and good luck fishing.
Suggested Baits