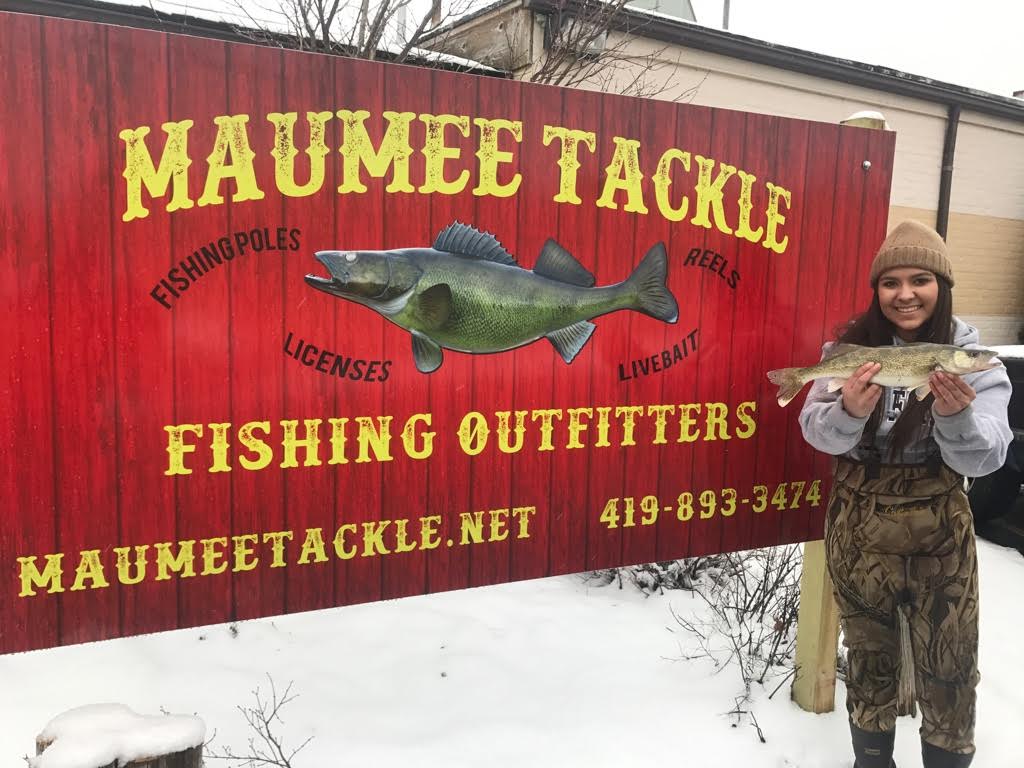 LEVEL-580.8
TEMP- 46  degrees
Barometer: 30.03  inHg and falling
Wading to Bluegrass Island is possible
Clarity-5 inches
Sunrise : 7:33 AM (First cast)
Sunset: 7:53 PM (Last cast)
The Bite Was On early yesterday , We had multiple reports of anglers hooking on to a walleye first cast at first light- a very exciting way to start the day! Many anglers were in and limited out before noon.And when the sun peeked out for a bit it turned them on even better. As the day progressed and it got overcast, the wind blowing up river turned the Maumee into a wind tunnel, things got a bit tougher as the temperature dropped but we still saw many singles and doubles brought in late.
Today the river temp is pretty stable and we may get that much needed rain that has been avoiding us all month. so we are looking to see another productive day on the river.
Hotspots: Bluegrass Island , Buttonwood Park and Schroders areas were the most productive yesterday . Fish were caught also along the towpath, Jerome rd rapids and ford st access.
All fishing areas are accessible today .
Weight:5/8- 3/4 oz- water still 1.5 feet below normal levels
Leader:24-36 inches
Colors: Success with the brighter colors yesterday but today will be darker and hopfully rainy so start with some darker colors to see if that triggers them. The Motor oil gold flake is still the best producing color this year. Shimmer shad has been working well on theses kind of days as well.  Pink head /black tail  – Orange head /Berkly Firetiger  tail  – glow head/motor oil tail – pink head / shimmer shad(slilver with metallic flake ) tail and green head /Xmas lights tail
Today A slight chance of showers before 10am, then a chance of showers and thunderstorms between 10am and noon, then showers likely and possibly a thunderstorm after noon. Cloudy, with a high near 64. East wind 8 to 10 mph becoming south in the afternoon. Chance of precipitation is 70%. New rainfall amounts between a tenth and quarter of an inch, except higher amounts possible in thunderstorms.
Tonight Showers likely and possibly a thunderstorm before 10pm, then a chance of showers. Mostly cloudy, with a low around 51. Southwest wind around 8 mph. Chance of precipitation is 60%. New precipitation amounts between a quarter and half of an inch possible.
Monday Mostly cloudy, with a high near 63. Southwest wind 7 to 10 mph
Have Fun Be safe and Good LucK Fishing
Suggested Baits