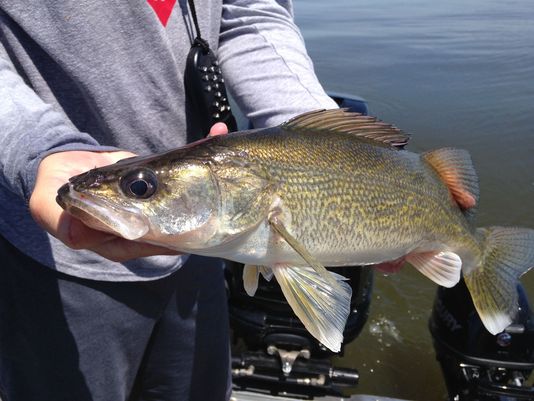 Water Temperature
68 degrees
Barometric Pressure
30.17 inHg. steady
Maumee River
Not a whole lot has changed in river conditions in over 3 months-the level has been at about 2 ft under normal since July with the exception of one big rain earlier this month. BUT now with the cool nights the river temp is dropping a few degrees a night- today it is down to 68 degrees. So its time to start targeting the fall species that get active in the river .
Steel head Trout- Jig with maggots, minnows, spawn bags, or flies fished underneath bobber, as well as spinners and spoons.
Walleye / Saugeye- lead head jig tipped with twister tail , bounced off the bottom just like during the spring walleye run- the more natural colors work best this time of year.
Smallmouth Bass- Crawfish imitating baits still work but small mouth are switching back eating fish. Use inline spinners, tubes and jigs in lighter colors. Cast baits across pools and runs ,retrieve at medium rate with twitching action.
Crappie- After they've spent the hot months in the depths with a sluggish attitude and a high degree of lockjaw, Fall sees crappies sliding shallower, chasing minnows, and feeding heavily before winter arrives. Bobber rigs are probably the most common rig to use when fishing with minnows. You can also use them with crappie fishing with jigs such as mini-mites. They give you control of depth and allow you to easily see if you get a bite. Use a 1/8th oz. split shot sinker 12-24  inches above an appropriate sized hook. Attach a fixed or slip type bobber at the depth you are fishing. It's good practice to start shallower first and work your way deeper due to crappie mainly feeding upwards.
*SHOP NEWS*
1-This Saturday September 29th  Join us for our  1st Fishing Tackle Swap Meet/ Tackle Sale.
FREE ADMISSION
Fishing, Hunting, Boating and  Camping gear only.
2- We got our Federal Firearms License, and initially we  will be bringing in a small rack of fire arms and ammunition. Starting  Saturday September 29th , 2018 we will have our new gun case open and firearms ready for sale. This Fall we will start out with a 14 gun rack.  I am going to stock primarily long guns geared toward hunting and target shooting. — for example   .22's ,  shotguns of various caliber and other hunting guns of that nature.
3   -  WALLEYE TOURNAMENT DATE FOR 2019 IS SATURDAY APRIL 13TH WITH RAIN DATE OF SATURDAY APRIL 20.  IM MAKING THE ANNOUNCEMENT EARLY AGAIN- SO SPREAD THE WORD -I WILL RE-POST FREQUENTLY TO MAKE SURE EVERYONE GETS NOTIFIED.
– WHITE BASS TOURNAMENTÂ SATURDAYÂ  MAY 12TH RAIN OR SHINE
4- LEAD-Â LOOKING TO PURCHASE CLEAN LEAD.
419-893-3474
If you have clean lead for sale just bring it in and we will weigh it out and buy it. My scale can handle up to 500 lbs so bringing in the big chunks is fine. 
Have fun, be safe and good luck fishing
Suggested Baits