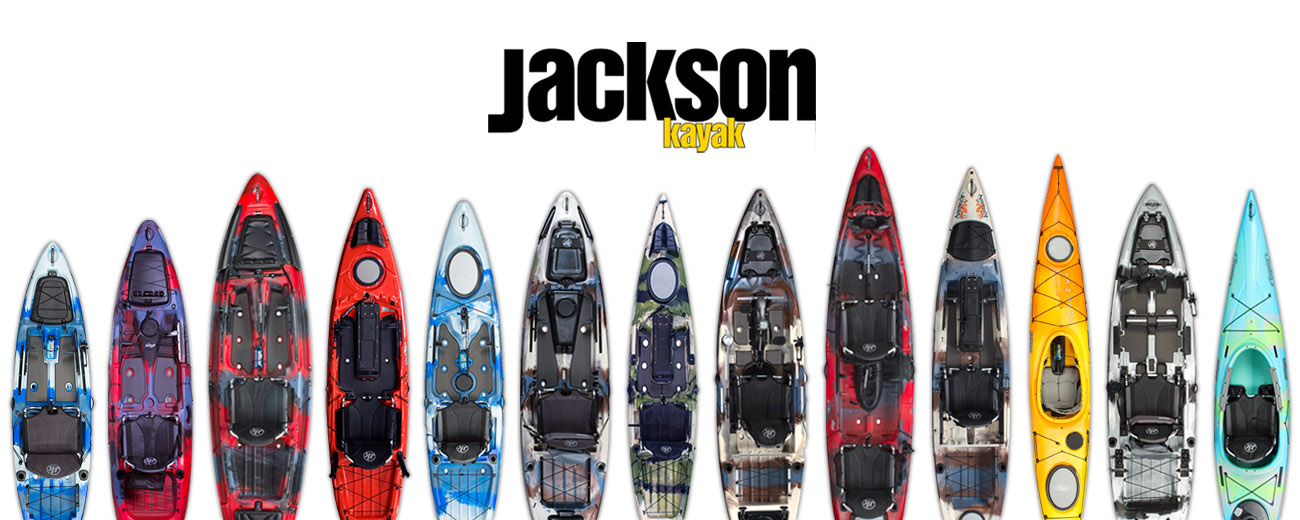 Water Temperature
74 degrees
Barometric Pressure
29.76
Water Clarity
8-10 inches
As everyone knows it has been very dry the last couple months, we haven't had fill up the river rain in over three months. What we have coming the next few days is probably just water the grass rain. Thats k -everylittle bit helps. Look for those deeper spots and drop in a worm to target those catfish.
Lots of live bait in stock
LEECHES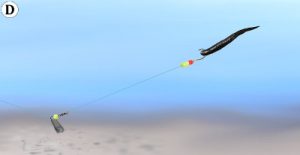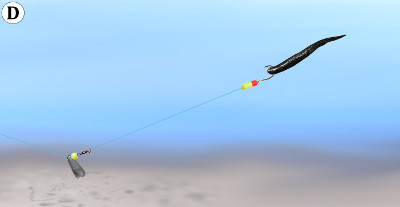 Walleye and Smallmouth bass love leeches.  Anglers catch tons of walleye and bass every year ,shallow and deep from spring through fall on leeches.  As the water warms above 50 degrees, leeches tend to swim much better.  A lively leech is just asking to get eaten.Leeches are the most plentiful of all the baits. It seems that they are natural to all bodies of water including creeks, rivers and lakes. They can be left in a container of water for a long time without food.  All leeches have sucking disks at both ends, the mouth is located in the smaller disk at the head end and use the larger disk on the tail only for clinging to objects. Most leeches species eat dead animals.Fish eat many types of leeches, but only the ribbon leech is widely used as bait. A ribbon leech has a firmer body than a horse leech and body situations or grooves that are less pronounced with the color varying  from pure black to light brown.  Leeches are easy to keep alive as they are not as sensitive to temperature changes like minnows are , and they require relatively little oxygen.. Leeches that are held in stagnant water over long periods of time need to ride themselves of waste for instance if they were in a stream or pond they would burrow into the sand to clean themselves. Walleyes love leeches almost all year round and they are classified as a universal bait for walleyes.  Some of the top smallmouth bass anglers learned that the regular-sized leeches tend to catch more fish and they catch big fish as well. bobber and leech is very effective for smallmouth bass and walleye when these fish are in the shallows.  This rig works great from late spring through summer for bigger bass. You can also rig a spinner bait  or any single hook spinner tipped with a leech.If you have never fished with this common fish bait , stop in the shop and we can teach you how to rig the leech and areas to target walleye and bass.
EMERALD SHINERS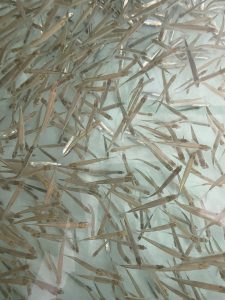 CRAWFISH-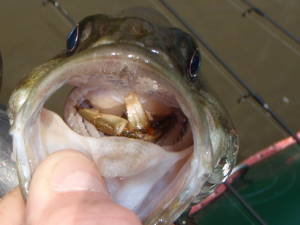 Crayfish, also known as crawfish, make excellent baits for freshwater fishing. Crayfish can be fished whole or as cut baits, depending on the situation. A variety of rigs are used for fishing crayfish.
One of the most common crayfish rigs is the Carolina style leader. A simple Carolina rig can be made by adding a sliding weight on the line above a small swivel.
To complete the rig, a leader and hook is attached below the swivel. Some anglers add a plastic bead above the weight to help protect the rod tip from being damaged by the weight.
A small bullet style weight is usually all that is needed with the rig. Heavier egg sinkers are used when fishing in strong currents.
NIGHTCRAWLERS-
These are definitely a staple worm in the fishing community. If you secure a night crawler to a hook with excess worm dangling off the hook, you are certain to draw all sorts of attention to your bait. These things are big, appealing and they wiggle like crazy. Bass fishermen know that largemouth and smallmouth bass will rarely pass up a chance to pounce on a wiggling nightcrawler. Earthworms or night crawlers are also a favorite meal for Walleye. Catfish who roam around the water's bottom looking for an easy meal are sure to chomp at your night crawler before long. Night crawlers also work well for trout, although many fishermen cut the night crawlers in half to make the meal a little more manageable for their smaller mouths.
LEAF WORMS/Red worms-
Leaf worms also known as red worms are known to work particularly well for smaller fish like bluegills, crappie and perch because these fish have smaller mouths and are either afraid or unable to eat big night crawlers consistently.
WAX WORMS –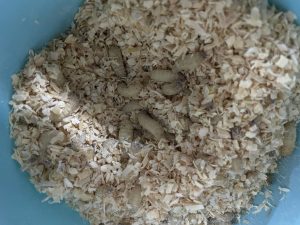 Wax worms are the larval stage of the Greater Wax Moth (Galleria Mellonella) or bee Moth Larva. They are excellent fishing bait especially when used as sunfish bait, perch bait, trout bait, crappie bait, bass bait, whitefish bait, and small channel catfish bait. Some days pan fish will hit nothing else.
 Milky white wax worms are not limited to winter fishing. They keep fish interested during the open water season, many anglers are using wax worms during the open water season and  larger pan fish will often respond to these delicious worms because they are different from the usual bait they are seeing in heavily fished waters.
Wax worms are an ideal food for pets, reptiles, amphibians and both caged and wild birds. Just toss a handful in your bird feeder and watch the birds come.
These soft-bodied wax worms are high in protein and calcium they are also relatively fattening and should thus be fed as treats not as a sole diet. Animals absolutely love the taste of them. Wax worms are easily digested and a favorite food source of many pets and fish.
KAYAKS-
Here is a quick rundown of what we have in stock now.
All Jacksons–
COOSA X-The Coosa is the answer to the evolving needs of the river and small water kayak fisherman. Iys  11 length and rockered hull make it the most sporty and nimble Jackson Kayak to best handle those smaller waters and especially wild rivers and creeks.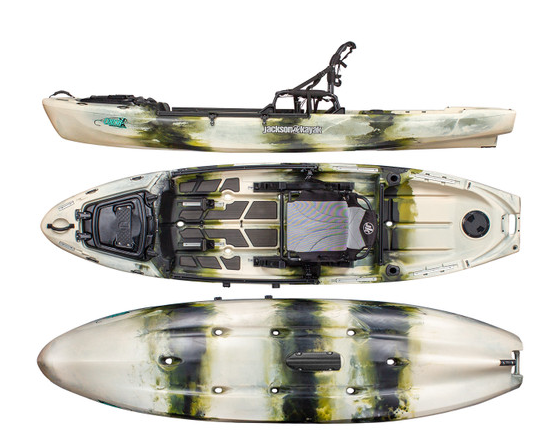 COOSA FD- Pedal drive-
The Coosa FD combines the top-selling Coosa HD hull and deck layout with our innovative Flex Drive Mark IV System, which is uniquely engineered to retract the propeller into the hull when beaching or when running over submerged obstacles. Bringing all of these features together, makes the Coosa FD a highly versatile fishing platform ready to fish "right out of the box".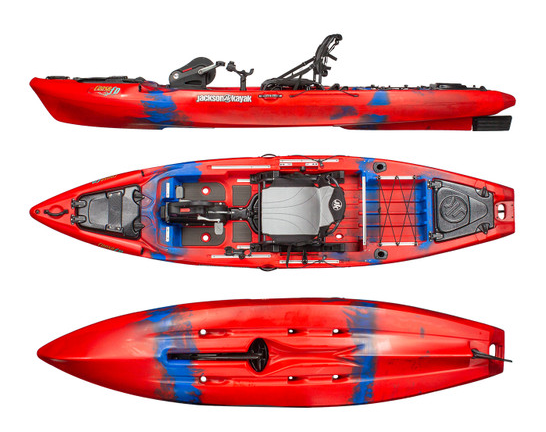 BITE ANGLER– Easily accessible tackle storage located along the gunnels provide a convenient spot for stashing tackle boxes, and rod stagers are molded into the geometry of the deck for quick rod changes. The open-concept deck has been long-awaited from Jackson, giving the paddler ample storage space fore and aft along with a system of touring-style bungie cords. These areas are perfect for crates, hard and soft coolers, dry bags of gear and more for daily usage and long exploration trips.
BITE FD-The Bite FD is a pedal kayak that is designed from the water up to provide you with top performance without requiring a lot of maintenance. Bite FD focuses on three key factors: power, propulsion and steering. The deck offers unbelievable stability for sitting or standing. The front and rear both provide impeccable storage space to haul all of your gear and they feature durable bungie cords to keep that gear secure on your wildest adventures. We've also included  gear tracks for you to easily attach your accessories and customize your kayak the way you want.
Jackson Kayak – Knarr FD
Jackson Kayak conquers the water with a completely new fishing platform for 2022. Introducing the Knarr FD, a kayak 100% dialed in on the challenges presented by oceans and large lakes. Bring on the surf, current, wind, tide and the elements – these are the focus of our design.
FEATURES
Our new Flex Drive Mark IV (Patented) is the product of four years of constant evolution. The latest version of our amazing Flex Drive is faster, quieter and more durable than ever before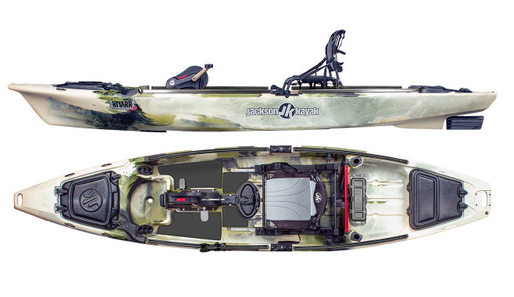 YuPIK-Named for the native Alaskan peoples that coined the word  (qayaq), the Jackson YuPIK changes the very definition of versatility. Bow To Stern track systems, rigging solutions and storage pockets molded in along the entirety of the boat allows the modularity for you to rig for your adventure without limitation. Customize your fun with more room! Specialized accessories, like our new kennel cot, improves the experience for everyone. Additions like the fully trimmable seat pan, our Strap Down gear track for 360 storage security and the first ever moving standing pad system make the YuPIK the most versatile kayak on the market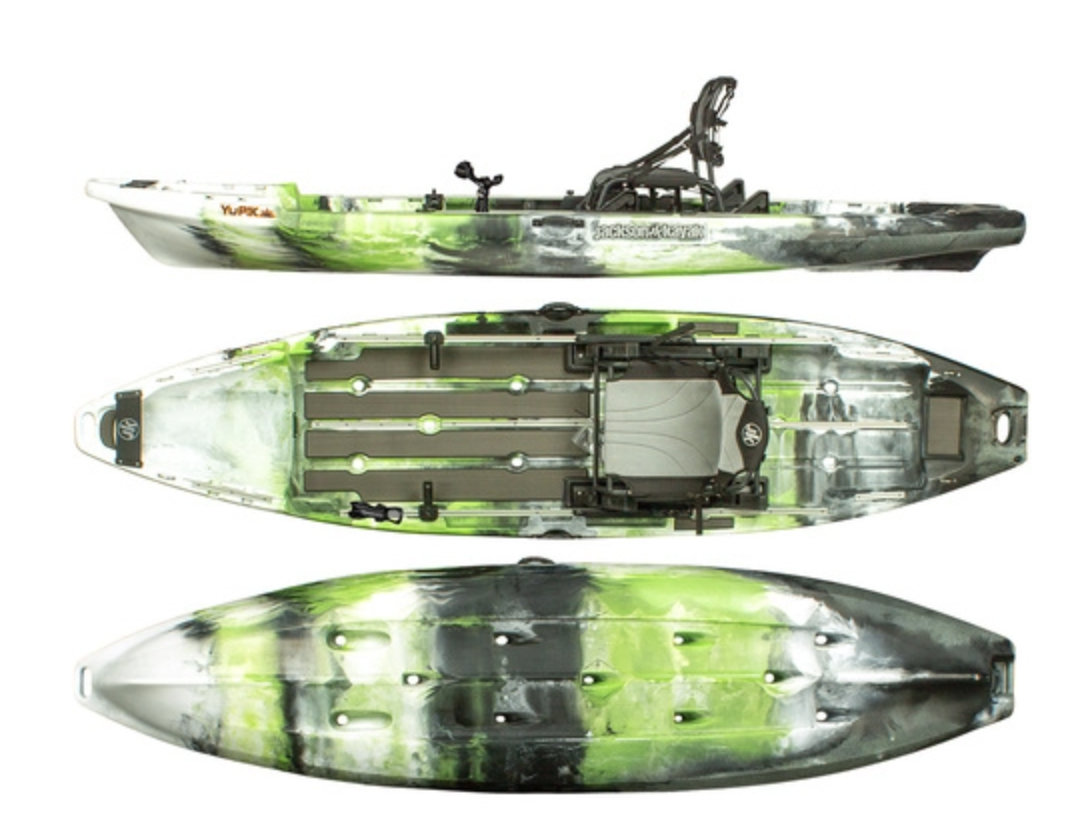 TRIPPER-The Tripper is based on the stable and versatile Kilroy hull. This sit-inside recreational kayak is designed for fun family adventure. The Tripper 12 comes with loads of storage space, our super-comfy Hi-Lo Ergo Seat, and never ending ways to personalize it for your own use. Its extra-large cockpit makes it perfect for taking along your furry friend. Load it up for a long adventure, fishing, or simply take it out for a quick leisurely paddle. Get there with the Tripper.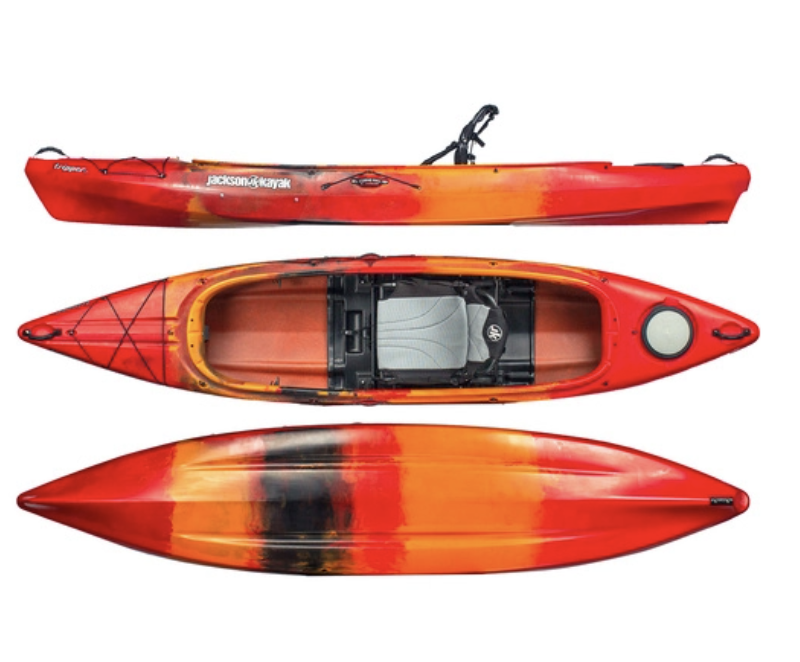 HAVE FUN , BE SAFE AND GOOD LUCK FISHING
Suggested Baits